SMG Team Expands
Schaeffer Marketing Group welcomes Scott Obert to our outside sales team.  Scott joined in June of 2019 and is currently training on the inside.   We will be assigning a sales territory after his training period is completed.
New Lines for SMG in 2019
Schaeffer Marketing Group is pleased to represent the following new lines: Mobern Lighting, Morris Products, Pemco, Perfect Power, RYMCO Conduit, Soltech.  See our linecard or our What's Hot page for more info.
In 2017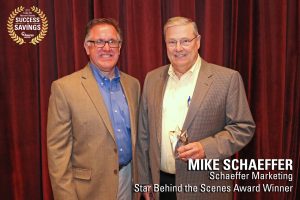 Ameren Missouri representatives and Trade Allies from across the energy efficiency industry gathered, April 21, to celebrate a year of success in saving customers energy and money with the Ameren Missouri BizSavers® program. Mike Schaeffer won one of the Stars Behind the Scenes Awards.
Kris Steiger won the 2016 Creating Contractor Demand award from Bridgeport Fittings in the western region in recognition of her efforts promoting labor saving new products.
AMP wins the St. Louis EBMI Expo's Best Booth (Single Booth) Award. 
In 2015
Mike Schaeffer was awarded the 2014 Michael A. Postiglione Award from the Electrical Board of Missouri and Illinois as someone that goes "above and beyond" to ensure that the Electrical Board remains a successful organization.
In 2014
John McGauley was awarded with Picoma Industries' Inside Salesperson of the Year.
Schaeffer Marketing Group Receives Recognition from IMARK as a Platinum Level Agency
Schaeffer Marketing Group received Platinum Level status with IMARK for 2012 for all of the marketing and service support provided in the market. We continue to support IMARK marketing activities and to help all of our partners achieve top success!
Kris Steiger Receives the Gem Award from Electrical Wholesaling Magazine
At the NEMRA Conference in February of 2012, Kris Steiger received the Gem Rising Star Award from Electrical Wholesaling Magazine. View the full article here. The GEM Rising Star Award, recognizes those independent reps whose early careers and industry contributions show promise of leadership. This award is a great honor!
Schaeffer Marketing Group Named Ameren MO Trade Ally, Most Outstanding Lighting Rep Agency
At the 2019 Annual Ameren MO Trade Ally Awards Banquet, Schaeffer Marketing Group received the award for Most Outstanding Lighting Rep Agency.  The award was for saving Ameren Missouri customers 6,368,963 kilowatt-hours and providing $477,850 in incentives. It is a true honor. We continue our work to save our customers energy costs and to provide better, more efficient lighting. Check out our Lighting Solutions page for more information on how we can help do this for you or your customer.
SMG Salespeople Receive TOP ULT Honors- 2011
At the NEMRA Conference in February of 2011, Inside Salesperson Jamie Radin was named the Inside Salesperson of the Year for Universal Lighting Technologies. Jamie received this honor because of her commitment to accuracy, excellent customer service, and thorough with factory personnel. She has learned both operational and technical sides of this line and offers our customers accurate, timely responses.
In addition, Mike Schaeffer was named ULT's Rep. Outside Salesperson of the Year award for his efforts in the energy retrofit market and for outstanding growth in ULT sales. Congrats, Mike and Jamie!
Energy Efficiency Experts
Schaeffer Marketing Group continues our work in the energy efficiency field, which began about 20 years ago when we began representing ULT (then Magnetek). Check out our Energy Efficiency page to see how we can help you in this market.