April 9, 2021
To our valued manufacturer and customer partners,
Schaeffer Marketing Group is excited to announce that Bruce Eason, Don Calcaterra, Tyler Kisro, and Ellen Eason of LEC & Co. have joined our team. They bring over 125 years of lighting experience along with some of the lighting industry's finest manufacturers that will enhance SMG's already great portfolio of top-notch lighting, controls and electrical companies. Please see attached to view the new team lineup and linecards.
Bruce and Don will cover some distributor, contractor and specifier accounts while Tyler focuses on specifiers. Ellen offers lighting design services as well as covers inside sales for some electrical lines. All who join the existing Schaeffer Marketing Group team have great experience in the specifier, design build and energy retrofit markets but will greatly define our lighting focus in the specifier market. Lighting services provided include project design, photometric layouts, utility incentive calculations, payback analysis, and job management.
Schaeffer Marketing Group, Inc. is an electrical and lighting manufacturer's representative firm originally established in 1976. The Schaeffer Marketing Group team is pleased to represent quality manufacturers and their products in eastern Missouri and southern Illinois, with many manufacturers represented in central Illinois as well. We offer our partners product expertise, longstanding relationships in the market and unequaled customer service with honesty and integrity.
We look forward to collaborating with you on your next project – whether it be an electrical or a lighting solution you need. Thank you for your support.
Kris Steiger                                                    Mike Schaeffer
President                                                       Director
Happy New Year!
Of course, 2020 was an unprecedented year for our country and the world.  It's safe to say that all of you are looking forward to a safer, happier and productive year ahead.  2021 marks a special milestone for Picoma, as we will be celebrating our 75th anniversary in business.  We have been manufacturing Picoma products 100% made in the U.S.A. for 75 years.  We are very proud of our past but even more excited about our future!  Our commitment to our employees, our customers, and our industry is to make the very best products from American-Made steel.  This mantra has been engrained in our culture since 1946.  Picoma continues to invest in our plant with state of the art equipment coupled with the best team in the industry to keep us looking forward to the next 75 years.
We hope that you will join us in this celebration by following us on our social media platforms.  Please Like, Retweet or Share your experiences with the Picoma brand and products, we want to hear from you.
Thank you for your partnership and continued support of Picoma!
Regards,
Steve Camilletti
General Manager North America – Picoma
August 5, 2020
Schaeffer Marketing Group is proud to announce that we will represent Encore Wire in the Eastern MO and Central/Southern IL territories effective next month, 9/1/2020.
Encore Wire is a leading US manufacturer of copper and aluminum electrical building wire known for service and quality second to none, which aligns with our reputation and values. Encore delivers products and productivity enhancing solutions to reduce overall job costs.
Our team is very excited to partner with Encore, to exceed our customers' expectations and to deliver products that benefit the channel. We will make all necessary adjustments to the staff and operations to continue offering our customer partners the same level of customer service on all of our manufacturers' lines.
Link to Encore Wire's press release.
Schaeffer Marketing Group is a premier family owned firm, representing leading manufacturers with integrity for over forty years. Our team provides service, training and innovative solutions to maximize value for our company, customers and manufacturer partners. Education and investment in our team members continuously improves our solution sets, creates demand, and provides excellent proactive customer service with ethics, expertise, accountability, timeliness, and respect.
Solutions. Service. Success.
4/3/2020

To our valued partners,
Because the health and safety of our employees and customers is our top priority, we continue to make adjustments accordingly. Our team is operating with full functionality remotely while some presence at the office is maintained to ship and receive samples and literature. We will all come through this challenge, appreciating the small things like visiting with our customers and solving a problem in person. Until then, please check our website for news and training resources.
OPERATIONS: business as usual
Our full team is available to respond to any inquiries via email and phone as normal. We have the systems and technology in place for us to continue operations with minimal disruptions. Either dial 314-894-1100 to reach our team or you can directly reach specific employees using the attached list or via email.
AVAILABILITY TO SERVE YOU
All of our manufacturers, deemed "essential business," are operating normally. They currently have significant inventory levels and many manufacture in the United States or North America with very little interruption in production or shipments at this time.
The only exceptions at this time are AMP, closed through 4/10, and Bridgeport manufacturing only, closed through 4/3 at this time. Both of these closures are temporary and precautionary. The Bridgeport distribution center and stock locations across the US remain open and shipping. There is no disruption in the supply chain for Bridgeport products.
TRAINING
Due to so many people abiding by social distancing practices and limiting personal interactions, we all know many customers with time available for training. Many of our manufacturers are offering online training – either recorded sessions or live webinars in order to offer productive, beneficial opportunities. If you are interested in a list of these resources or in setting up some remote training for a particular topic, please let us know.
We understand these are challenging times, and remain committed to delivering the superior service, support and manufactured goods you have come to expect from our team. If we can help in any way, please reach out. Thank you for your continued support and the opportunities to work together.
Stay well!
Kris Steiger
Schaeffer Marketing Group
314-681-2633 cell
SMG Receives Ameren MO Most Outstanding Lighting Rep Agency Award – Again!
At the 2020 Annual Ameren MO Trade Ally Awards Banque held in March of 2020, Schaeffer Marketing Group received the award for Most Outstanding Lighting Rep Agency.  We are so proud to improve the bottom line of end users in our community and save on our global carbon footprint. If you would like to find out how we can upgrade your lighting, save on maintenance and save energy costs – please call today.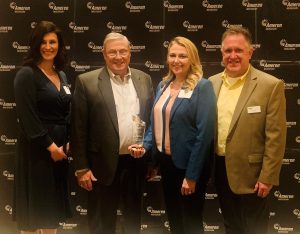 SMG Team Expands
Schaeffer Marketing Group welcomes Scott Obert to our outside sales team.  Scott joined in June of 2019 and is currently training on the inside.   We will be assigning a sales territory after his training period is completed.
New Lines for SMG in 2019
Schaeffer Marketing Group is pleased to represent the following new lines: Mobern Lighting, Morris Products, Pemco, Perfect Power, RYMCO Conduit, Soltech.  See our linecard or our What's Hot page for more info.
In 2017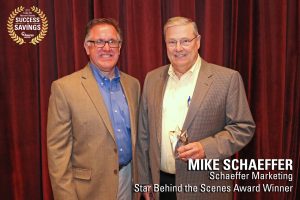 Ameren Missouri representatives and Trade Allies from across the energy efficiency industry gathered, April 21, to celebrate a year of success in saving customers energy and money with the Ameren Missouri BizSavers® program. Mike Schaeffer won one of the Stars Behind the Scenes Awards.
Kris Steiger won the 2016 Creating Contractor Demand award from Bridgeport Fittings in the western region in recognition of her efforts promoting labor saving new products
AMP wins the St. Louis EBMI Expo's Best Booth (Single Booth) Award.

In 2015
Mike Schaeffer was awarded the 2014 Michael A. Postiglione Award from the Electrical Board of Missouri and Illinois as someone that goes "above and beyond" to ensure that the Electrical Board remains a successful organization.
In 2014
John McGauley was awarded with Picoma Industries' Inside Salesperson of the Year.
Schaeffer Marketing Group Receives Recognition from IMARK as a Platinum Level Agency
Schaeffer Marketing Group received Platinum Level status with IMARK for 2012 for all of the marketing and service support provided in the market. We continue to support IMARK marketing activities and to help all of our partners achieve top success!
Kris Steiger Receives the Gem Award from Electrical Wholesaling Magazine
At the NEMRA Conference in February of 2012, Kris Steiger received the Gem Rising Star Award from Electrical Wholesaling Magazine. View the full article here. The GEM Rising Star Award, recognizes those independent reps whose early careers and industry contributions show promise of leadership. This award is a great honor!
Schaeffer Marketing Group Named Ameren MO Trade Ally, Most Outstanding Lighting Rep Agency
At the 2019 Annual Ameren MO Trade Ally Awards Banquet, Schaeffer Marketing Group received the award for Most Outstanding Lighting Rep Agency.  The award was for saving Ameren Missouri customers 6,368,963 kilowatt-hours and providing $477,850 in incentives. It is a true honor. We continue our work to save our customers energy costs and to provide better, more efficient lighting. Check out our Lighting Solutions page for more information on how we can help do this for you or your customer.
SMG Salespeople Receive TOP ULT Honors- 2011
At the NEMRA Conference in February of 2011, Inside Salesperson Jamie Radin was named the Inside Salesperson of the Year for Universal Lighting Technologies. Jamie received this honor because of her commitment to accuracy, excellent customer service, and thorough with factory personnel. She has learned both operational and technical sides of this line and offers our customers accurate, timely responses.
In addition, Mike Schaeffer was named ULT's Rep. Outside Salesperson of the Year award for his efforts in the energy retrofit market and for outstanding growth in ULT sales. Congrats, Mike and Jamie!
Energy Efficiency Experts
Schaeffer Marketing Group continues our work in the energy efficiency field, which began about 20 years ago when we began representing ULT (then Magnetek). Check out our Energy Efficiency page to see how we can help you in this market.